[ad_1]
Amateur Radio on the International Space Station (ARISS) is a cooperative enterprise of the Radio Amateur Satellite Corporation (AMSAT), the American Radio Relay League (ARRL), and the National Aeronautics and Space Administration (NASA) in the United States , and other international organizations. space agencies and international amateur radio organizations around the world. The main objective of ARISS is to organize scheduled contacts via amateur radio between crew members aboard the International Space Station (ISS) and classrooms or places of informal education. With help volunteers with experience in amateur radio from amateur radio clubs and the coordination of theThe RISS team, the members of the ISS crew speak directly to a wide audience in various public forums such as school assemblies, science centers and museums, scout camps, jamborees and space camps , where students, teachers, parents and communities learn about space, space technologies and amateur radio.

The objectives of the ARISS program include:
Inspiring interest in science, technology, engineering and mathematics (STEM) subjects and STEM careers among young people

Provide an educational opportunity for students, teachers and the general public to learn more about space exploration, space technologies and satellite communications

Provide an educational opportunity for students, teachers and the general public to learn more about wireless technology and radio science through amateur radio


Provide an opportunity for the experimentation and evaluation of new technologies by radio amateurs.

Provide an emergency communications system for NASA and the ISS crew.

To supply

the crew with another means

interact directly with a larger community outside of the ISS, including friends and family.
The programmed ARISS amateur radio contacts with the ISS are made either by direct contact, or by telephone contact. The method used will depend on the radio station's equipment and the experienced amateur radio volunteers available to support the contact as well as technical issues with the ISS orbit over the contact location.
Since the ARISS program supports the testing and installation of amateur radio stations aboard the ISS, astronauts have the necessary equipment to also establish unplanned amateur radio contacts with radio amateurs around the world on a on an individual basis during their personal time. With a very limited investment in amateur radio equipment, licensed radio amateurs, including students who have access to amateur radio stations in a classroom, can make one-to-one contact with astronauts on board the ISS by learning to follow the published orbital program and practicing some basic amateur radio contact techniques.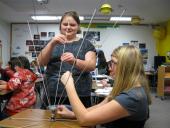 See the short video below for an overview of the ARISS program and how Boulder Hill Elementary School, with guidance from the Fox River Radio League, prepared for their contact.
[ad_2]
Source link